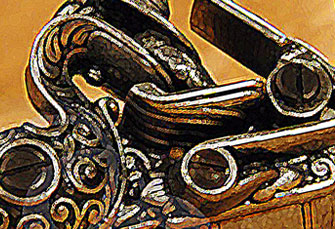 Flintlock Replicas
Sometimes, the best attack is made from 50 yards away (or farther, if possible). Sure, it's fun to mix it up in hand-to-hand. But you know what else is fun? Living. And keeping all your limbs. That's fun too.
Please note Strongblade does not offer working firearms. All items on this page are replicas.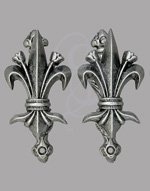 SBBR-HANGER-FLEUR
Pewter or Bronze Fleur de Lis Wall Hangers for Swords, Daggers, and Pistols
$18
Out of Stock
Strongblade Lore
(A Bit of History According to Strongblade)
Back in the late 1700s, Sir Patrick Gunstand kept misplacing his pistol. So, he decided to invent a tool to always keep track of ... Oh, who am I kidding? We don't really have a history for this item. Sorry!






Inspired by Model SBC-CRESTEDHANGER