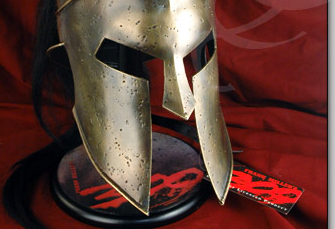 Licensed / Movie
No cheap knockoffs here, my friends. Just the finest, most carefully screened licensed items available. You wouldn't buy hemorrhoid cream that came from Pakistan and wasn't cleared by the Food and Drug Administration, would you? Then you shouldn't buy cheap knockoffs, either.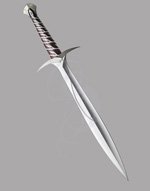 SBU-LOTR-STING-HOBBIT
Official LOTR Hobbit (Lord of the Rings) Sword - Sting
$178
Out of Stock
The Officially licensed Lord of the Rings Hobbit Sting. The blade of Bilbo Baggins. 22 1/4" overall. 15 3/8" AUS-6 stainless blade. Solid metal guard and pommel. Wooden wall display plaque with wood grain finish and silk screen graphic.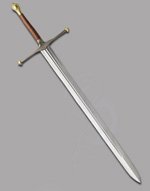 SBV-ICE-II
Ice, Sword of Eddard Stark
$315
Out of Stock
This is a licensed replica of ICE from the HBO series Game of Thrones. ICE is huge measuring almost 58 inches in length. This adult collectible is officially licensed and includes a display plaque and a certificate of authenticity.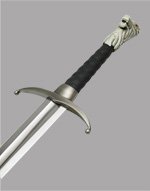 SBV-LONGCLAW
Officially Licensed Sword of Jon Snow from HBO® 's Game of Thrones
$255
Out of Stock
This is an officially licensed replica of Longclaw, from the HBO series Game of Thrones. It features a 35 inch polished stainless steel blade and a wolf head shaped pommel. It includes a wooden wall mount plaque with the oath of the night Watch silk screened on it.
Strongblade Lore
(A Bit of History According to Strongblade)
For five centuries the Valyrian steel sword Longclaw was carried by the Lords of Bear Island in the service of the Starks of Winterfell. Passed from father to son, the hand-and-a-half sword - called a bastard sword by the uncouth - had a great history while in their possession. That came to an end, however, when the last lord of the House, Jorah Mormont, was disgraced and fled Lord Stark's justice. Jorah went into exile, but left behind the sword which then found its way back to his father, Jeor, the Lord Commander of the Night's Watch.

Longclaw was kept out of sight, until the fateful night came when a wight - a dead man brought to life by creatures out of nightmarish legend - sought to throttle the Old Bear in his sleep. It was his squire, Jon Snow, and Snow's albino direwolf Ghost who rescued him by setting the wight ablaze. Though part of Lord Jeor's apartments were burned down following this, the fire would need to have burned a hundred times hotter to harm the blade that was forged in old Valyria before the Doom. The ancient silver bear's head pommel and the hilt was burned, but these were replaced at the Old Bear's command with something befitting Snow. Given the sword, now adorned with a wolf's head pommel, and the opportunity to rename it as a gift. Jon Snow responded that wolves have claws just as bears do, and kept the proud name as it was.
Inspired by Model SBV-LONGCLAW