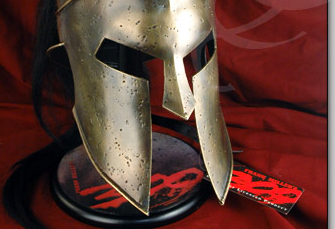 Licensed / Movie
No cheap knockoffs here, my friends. Just the finest, most carefully screened licensed items available. You wouldn't buy hemorrhoid cream that came from Pakistan and wasn't cleared by the Food and Drug Administration, would you? Then you shouldn't buy cheap knockoffs, either.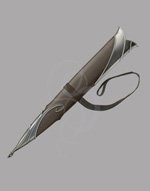 SBU-HOBBITSCABBARD1
Scabbard For The Official LOTR Hobbit Sword - Sting
$19
Out of Stock
Cast metal fittings and leather wrapped scabbard body. Scabbard features a felt hole on back side and includes a leather belt strap. Officially licensed reproduction of the actual film prop used in the movie The Hobbit.
Strongblade Lore
(A Bit of History According to Strongblade)
The famous sword Sting was given to Frodo by his uncle, Bilbo Baggins (he also gave Frodo the devastatingly potent Ring of Power and some Mithral mail. Mention that to your uncle next time you're trying to wheedle some cash out of him). Sting was, of course, a magical weapon. It was forged by elves in the hidden City of Gondolin during the First Age. Little is known of it's history until it was found by Gandalf and Bilbo in a troll treasure hoard in Eriador. Like most Gondolin-forged weapons, the blade glows blue when orcs are near.

Sting was found with two swords, Glamdring and Orcrist both very powerful weapons from the First Age, and both also forged in Gondolin. Bilbo took the unnamed Sting for himself, and Gandalf took Glamdring. Later, after a tussle with some spiders that were about the size of the ones I routinely saw in my old house, Bilbo named the sword Sting.

When Bilbo's days of adventuring started to draw to a close, he gave the sword to Frodo, who famously used it throughout his own adventures.


Inspired by Model SBU-HOBBITSCABBARD1