Personalized Engraving
For a low price you can add a personalized engraving to your helmet stand. We will apply 2.5 inch by 1.25 inch solid brass plate to the helmet stand engraved with your personalized message. This makes for a truly wonderful gift or award. Just click-on the engrave button next to the helmet part number and use our engraving utility to enter up to three lines of text in the font of your choice.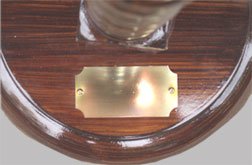 Ahh, the kettlehelm. Light, breezy, unobtrusive and comfortable. It no wonder that they were so popular. These wide brimmed helmets ("Chapel de Fers" or "iron hats" as the French called them) were just the thing for footmen who were concerned about mounted attacks, or who just wanted to wear something for a long period of time without tiring.
This kettlehelm is made from a very thick, very solid 18-gauge, high carbon steel. Powerful steel rivets bind two crossing strips of tough steel to the helmet, providing an unbreachable defense against blows. The overall construction and craftsmanship of this piece is phenomenal. In all it is a tight, fantastically made helmet of solid steel. Much more comfotable to wear than more elaborate helmets (provided you first make a liner for it first), and a wonderful display piece for any room.
This helmet is actual size, and can be worn with a helmet liner (not included: can be made fairly easily).