This is a miniature Roman Gladiator helmet similar to the helmet worn by Russell Crowe in the film "Gladiator" This helmet stands 6.5 inches high and is a true replica of the full size helmet. The helmet features a dramatic metal crest which runs from front to rear and is surrounded by smaller metal spikes on the sides and rear of the dome. The movable metal face plate is the most prominent feature. Shaped to give the appearance of fangs it gives the wearer a truly fierce look.
Although technically not a standard gladiator helmet, this piece most resembles the "cavalry sport" helmets worn by Romans and Romanized Celts. These Life-like armored masks were carved to resemble human faces, and were used both for cavalry training exercises and, early on in Roman history, for battle.
Choose From a Family of Miniature Helmets or Collect the Series
This helmet is part of a series of miniature helmets offered by Strongblade. All of the helmets are made from 20 gauge steel and are replicas of the full size functional helmet.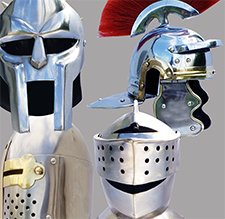 Wood Stand Included at No Extra Charge
These helmets are made for displaying so of course we have included a stand at no extra charge. The stand is made of hardwood and painted stain black. The stand has a contoured design and measures just under 8.5 inches in height with a 4 inch by 4 inch base.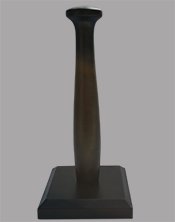 Stand included with helmet
Add a custom engraving
As a stand alone item these helmets make wonderful and unique gifts but to make them even more special we offer a custom engraving for the helmet. The custom engraving includes a brass plate attached to the base of the stand with you own personalized message engraved into the brass. Using our Engraving Ape you can enter your message, position it, choose a font and size.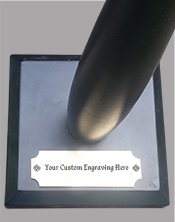 Optional Stand Engraving