Personalized Engraving
For a low price you can add a personalized engraving to your helmet stand. We will apply 2.5 inch by 1.25 inch solid brass plate to the helmet stand engraved with your personalized message. This makes for a truly wonderful gift or award. Just click-on the engrave button next to the helmet part number and use our engraving utility to enter up to three lines of text in the font of your choice.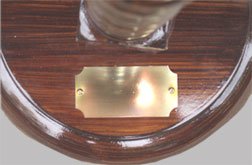 This helmet is also available in Brass. Please see the
Brass Spartan Crested Helmet
For details.
That said, I can tell you that this helmet is a beauty. They're made from a brass/bronze alloy that has been acid etched and hand-antiqued for that fresh-from-the-battle look. It features Cointhian-style nasal and elongated cheek guards and a gorgeous black crest of trimmed horsehair.
The metal of the helmet is pocked and pitted as a bronze helmet would be, and is worn and abrased in sections to appear battle-scarred. No two of these helmets are the same as each one is hand-antiqued.
The helmet comes with a high quality leather liner and rugged chin strap for easy fitting.