Making Your Mark - Custom Engraved Swords and Tankards
Knights sometimes used swords to engrave people's flesh. That's not what we're talking about. In the Middle Ages, a knight's faith was in his sword. No, literally, it was "in" his sword. Knights would have blacksmiths engrave sacred words on their blades. Words from their favorite prayer, the name of a patron saint, or simply the name of Jesus Christ. What do you have faith in? What favorite words or symbols will you put on your blade? A religious quote? Your family crest? Lyrics from a Bobby McFerrin song? It doesn't matter. Strong blade's custom engravingcan add just about anything you want to your blade, starting for only $15 or less!
But it's not just engraved swords. We can do helmet stands, tankards, daggers, pistol stands and knives. Here's a page with all our engravable items (and more are being added constantly.) What can you have engraved on these things? What can't you! Me, I'd like to engrave Gwyneth Paltrow's lips on the top edge of my tankard, but I'm a lonely, lonely man. Have a wedding party to buy gifts for? Want an award for your employees? Going to become a sword-wielding super hero and want your mantra on your blade? The possibilities are endless!
So, how do you show us what you want engraved on your sword? It's easy! Just go to the product page of the item you want to buy, then click the "Engrave" button next to the item name. You'll be magically whisked away by the power of Internet to Strongblade's interactive engraving tool. This thing is like a video game! Seriously! I win every time! The interactive engraving utility (I like to call it the Inenguti, but that hasn't caught on) allows you to type in up to three lines of text, and position each line exactly where you want it. We also offer pre-designe graphic patterns as well a library of over 1,000 graphics. If you like animals, real or mythical..we got them!, zodiak symbols...we got them!, flags...we got them too! With over 1,000 images, I could go on and on, but you get the idea. Here's a design I creared in less than 2-3 minutes about as long as it takes to make microwave popcorn"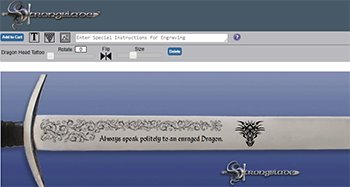 And the fun doesn't stop at words. Strongblade can also engrave logos and other line art symbols. That's right, put your own stylistic stamp on your blade. Want to know how? Just send an email to service@strongblade.com to get started with images. Yeah. Game on.
We showcase many of our engravings in our Engraving gallery. Below are just a few samples, check out our Gallery for many more: