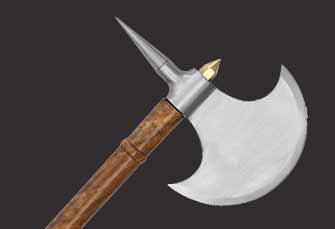 Axes, Maces and Hammers
From the Vikings to Gimli the Dwarf, battle axes, maces and hammers add a touch of the savage warrior to anyone. Great as a primary piece of equipment, just as good as an accent, strapped to the back or dangling from your belt.
Strongblade Lore
(A Bit of History According to Strongblade)
Punishing Blows
The axe's first incarnation was as a shaftless, stone tool before recorded history. It was mounted on antlers and wood very early on and used as a tool for cutting trees and, most likely, other people. The tool developed through the bronze age and reached one of it's pinnacles among the vikings of the 15th and 16th centuries. The battle axe was well suited to the vikings' needs -- fairly easy to make, easy to carry and disastrous to opponents. The horrendous blows that could be made with these tip weighted axes were legendary; the axes were known to shatter shields and helmets with ease.

Like many instruments of war, battle axes eventually grew longer (from a little more than 3 feet in length). Polearms developed, allowing wielders to keep opponents at bay in much the same way that the rapier did for swords.


Inspired by Model SBBR-AXE-DOUBLE