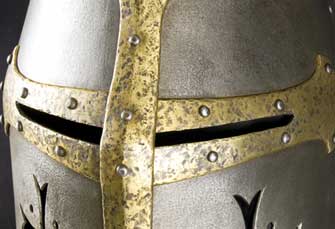 Pirates and Pirate Goods
Avast ye! Set the studding sails and man the squib, ye scurvy addled skallawag! (I honestly have no idea what that means). Pirates have enjoyed a fangtastic resurgence lately (I imagine Johnny Depp has something to do with that), which is great thing! We've always loved pirates here at Storngblade. We're sure you will too when you look at some of our Pirate Merchandise.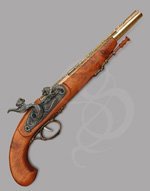 SBC-FL-FRENCHDUELING-BRASS
Engraved 18th Century French Dueling Pistol with Brass Hardware
$71
Out of Stock
Strongblade Lore
(A Bit of History According to Strongblade)
Flintlocks
The flintlock pistol was the greatest advance in pirating since the wooden leg. Developed in the 1600s, these pistols revolutionized ship-to-ship combat (and on-land raiding). The concept was fairly simple: gunpowder was stuffed into the barrel. A lead ball, usually wrapped in some sort of fabric, was stuffed in. A metal rod (normally embedded in the bottom of the gun's barrel) was removed and used to jam the ball and powder as far back as possible, and as close as possible. A hammer (sometimes called a cock [insert giggles here]) was then pulled back half-way and left that way until the gun was ready to fire. The pistol technically was not meant to fire in this position, although sometimes they were known to go off half-cocked (and yes, that is the origin of that expression). When the gun was ready to be fired, the hammer (or cock, hehehehe) was pulled back all the way and the trigger was squeezed. A the top of the hammer, a piece of flint was held in place by a vice. When the trigger was squeezed, the hammer was released and the flint struck a metal plate known as a frizzen. A spark would be created, which would light the powder in the barrel, which in turn would make a satisfying "boom" sound. A by-product of this "boom" was the ejection of the lead ball from the barrel at a high rate of speed. Flintlock owners had to be careful that the barrel was not facing anyone when they created their "boom" sound or injury or death could result.

Moisture or water was one of the greatest threats to flintlock pistols. Wet powder would not light when sparked, so the flintlock owner would neither get the satisfying "boom" nor the lethal projectile flying from their barrel. Instead, this would often mean that they, themselves, would be the target of an opponent's satisfying boom and resultant projectile. That, or a sword through the esophagus.


Inspired by Model SBC-DOUBLEBARREL-LONDON