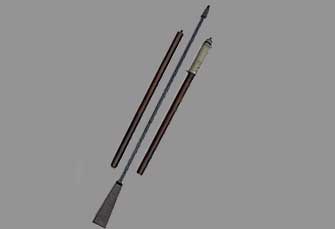 Spears and Polearms
It was good enough for 300 Spartans who held out against a million Persians. The spear should be good enough for you. But if you still want more, you can look at our selection of polearms. They were good enough for the legendary swiss mercenaries, they should be good enough for you.
Strongblade Lore
(A Bit of History According to Strongblade)
The Roman Pilum was used to jab opponents at close range, or as a missile spear, hurled at enemies from a distance. The spear was typically designed with a heavy wooden shaft and a triangular metal tip fixed onto a long thin metal shank.

The Romans designed the spear with a narrow shank on purpose; if the pilum failed to penetrate when thrown, the thin shaft would most likely bend and the enemy would not be able to throw it back. Additionally, even if the pilum penetrated a shield and/or the opponent, it was likely that the thin shank would still bend, with the shank and head on one side of the shield and the large blocky shaft on the other. This would render the shield useless even if the target survived the attack, forcing him to abandon his shield and be even more vulnerable. Later, when the Roman soldier recovered his spear, he could straighten it again and use it in the next battle. Of course, the thin profile of the shank would allow the pilum to penetrate much farther into the body, as well, making it an extremely lethal spear.

Many legionnaires carried two Pilums, often with one of them good for throwing and another better for thrusting. The Roman's use of the Pilum and Scutum was legendary; they used these spears, and the famous gladius, to carve out one of the largest, longest lasting empires in the history of the world.


Inspired by Model SBA-WPN-PILUM