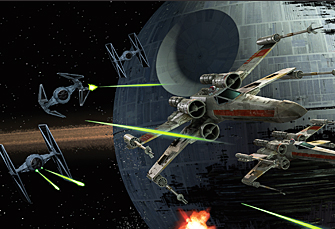 Force FX Lightsabers
Beautiful replicas of the Star Wars lightsaber collection. Features include:
Power-up and power-down light effects produced by a string of 64 super-bright LEDs that ignite sequentially inside the blade.
Five motion sensor controlled sound effects digitally recorded from the movie: power-up, idle hum, swing, clash, and power-down.
Three built-in motion sensors for super sensitivity: 2 for detecting movement and 1 for detecting the impact of the blade.
Durable metal hilt looks and feels like a real lightsaber.
Sturdy blade is permanently attached to the hilt.