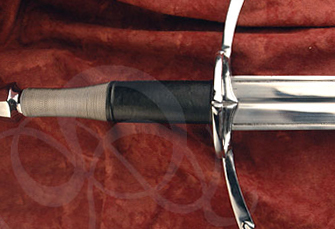 Hand-and-a-Half Swords
Referred to as hand and a half because they have an extended grip and can be welded with either one hand or two. They also bear the name "bastard" from the French term'epee batarde', not because of their illegitimate nature. No matter what you call them they make you look ten times tougher when you have one. Aragorn carried one. As did Mad Mardigan (remember Willow, don't you?).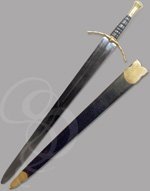 SBA-DEATHBRINGER
Deathbringer: Hand-and-a-Half Mercenary Sword
$97
In Stock!
The extremely wide blade and the scalloped brass crossguard which appear to be talons or skeletal fingers help earn the name for this model. Although not a true hand size, it does have a grip wide enough for some hand-and-a-half work.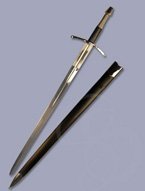 SBA-RINGHILTBASTARD
German Bastard-Style Ringhilt Sword with Split Grip
$94
In Stock!
The German Ring-Hilted is about 47 inches in total length. A little short for a standard hand and a half sword, but the shorter length actually helps with the balance. It weighs in at about 3.5lbs, so it's no daisy, but the point of balance is set nicely at about 5 inches from the guards.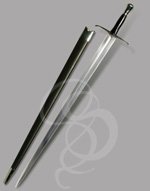 SBA-WARSPIKE
Warspike Knight's Hand-and-a-Half(Bastard) Sword
$86
In Stock!
The Warspike combines the length of a long arming sword, the hilt of a small hand-and-a-half, and just a hint of a "tuck" thrusting blade. The excellent balance and light weight make the Warspike an exceptional addition to any collection.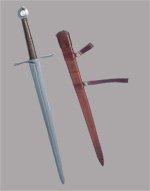 SBA-NORMAN-TWOHAND
Norman Sword with Molded Leather Scabbard with Belt Hangers
$140
Out of Stock
The Norman two-handed sword is one of our most beautiful pieces. Boasting an impressive overall size of 45 inches with a blade length of 35 inches it still a comfortable weight and very well balanced.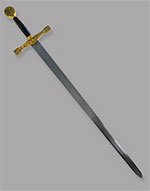 SBCM-PENDRAGON
King Arthur's Sword, Excalibur - Arthur Pendragon
$84
Out of Stock
The Pendragon captures the power, nobility and mystery of legendary King Arthur and his mystical sword, Excalibur. This version of Excalibur is long--nearly four foot in overall length, with a wide stainless steel blade that's absolutely perfect for engraving.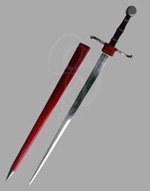 SBDK-MEDIEVAL-BASTARD-T
European Bastard Sword with Elegant Red Scabbard
$101
Out of Stock
The medieval bastard is gorgeous with many unique features. The blade is made of high quality tempered steel available sharpened or un-sharpened. The steel guard and pommel balance out the length of the blade. The grip is accented in red which matches the red scabbard.
Strongblade Lore
(A Bit of History According to Strongblade)
Medieval swords ranged in length, but when Strongblade refers to a medieval sword, we are usually referring to a blade that is less than 38 inches or what was generally referred to as an "Arming Sword" or a knights secondary sword. These swords were almost always worn by the knight except in combat (when the knight would usually bring a larger battle sword). Swords of longer length from that time period are sometimes referred to as "Infantry Swords", "Battle Swords", "Hand-and-a-Half Swords" or "Two-Handed Swords" depending on the style and who was wielding them.

Medieval swords almost always have pommels (often using a variation of the standard "disk" pommel), usually have well defined crosses (or quillons), and typically have long fullers (indented grooves running along the blade). Of the many medieval swords that have been excavated or found, quite a few have engravings on the blades. Usually, these engravings were of a religious nature, with sacred phrases or sketches etched into the blade and usually filled with another metal, like silver.

When Strongblade refers to a "Battle Sword," we are referring to most European medieval swords with blades longer than 35" or so. real battle swords had blades well in excess of this, and, in fact, a 35" sword was considered a bit skimpy for fighting skirmishes. But for home use and light sparring, a 36" blade is fairly long.

These swords can be sub-categorized into hand-and-a-half swords/bastard swords and two handed swords. Swords of this nature would have been a Knight"s primary weapon on the battle field because of their strength, reach, and armor-splitting weight.

These weapons were intended to smash and slice through thick armor, so had to be quite heavy and sharp. While the point of the sword could be used to pierce (and the final killing blow with these swords often was a thrust), this was primarily a slashing weapon.

Many of these swords feature a riccatta " a dull section of the blade just below the hilt. The swordsman could place a hand on this riccatta allowing him to grip the blade a little higher, which gave the swordsman more leverage for the swing (a bit like choking up on a modern baseball bat). This was especially useful for in-fighting (fighting at close quarters), or for more precise thrusts. One of the more popular techniques with these weapons was to use both hands to thrust the blade into an opponents visor, or into gaps in their armor.
Inspired by Model SBA-WARSPIKE