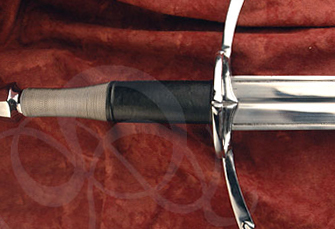 Hand-and-a-Half Swords
Referred to as hand and a half because they have an extended grip and can be welded with either one hand or two. They also bear the name "bastard" from the French term'epee batarde', not because of their illegitimate nature. No matter what you call them they make you look ten times tougher when you have one. Aragorn carried one. As did Mad Mardigan (remember Willow, don't you?).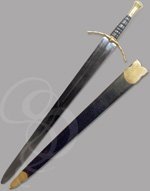 SBA-DEATHBRINGER
Deathbringer: Hand-and-a-Half Mercenary Sword
$93
In Stock!
The extremely wide blade and the scalloped brass crossguard which appear to be talons or skeletal fingers help earn the name for this model. Although not a true hand size, it does have a grip wide enough for some hand-and-a-half work.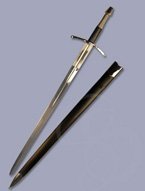 SBA-RINGHILTBASTARD
German Bastard-Style Ringhilt Sword with Split Grip
$94
In Stock!
The German Ring-Hilted is about 47 inches in total length. A little short for a standard hand and a half sword, but the shorter length actually helps with the balance. It weighs in at about 3.5lbs, so it's no daisy, but the point of balance is set nicely at about 5 inches from the guards.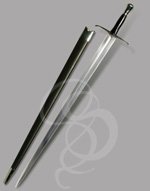 SBA-WARSPIKE
Warspike Knight's Hand-and-a-Half(Bastard) Sword
$86
In Stock!
The Warspike combines the length of a long arming sword, the hilt of a small hand-and-a-half, and just a hint of a "tuck" thrusting blade. The excellent balance and light weight make the Warspike an exceptional addition to any collection.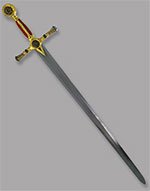 SBCM-MAS-RED
Masonic Greatsword - Stainless-Greatsword with Red Velvet Grip
$79
In Stock!
A red velvet grip with golden accent, a decorative guard and pommel with Masonic symbols plus an impressive 45 overall length with a 37 inch polished stainless steel blade make this a sword fit for royalty.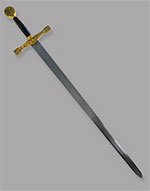 SBCM-PENDRAGON
King Arthur's Sword, Excalibur - Arthur Pendragon
$74
In Stock!
The Pendragon captures the power, nobility and mystery of legendary King Arthur and his mystical sword, Excalibur. This version of Excalibur is long--nearly four foot in overall length, with a wide stainless steel blade that's absolutely perfect for engraving.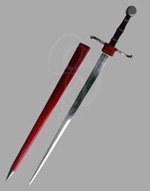 SBDK-MEDIEVAL-BASTARD-T
European Bastard Sword with Elegant Red Scabbard
$141
In Stock!
The medieval bastard is gorgeous with many unique features. The blade is made of high quality tempered steel available sharpened or un-sharpened. The steel guard and pommel balance out the length of the blade. The grip is accented in red which matches the red scabbard.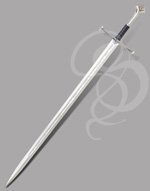 SBU-ANDURIL
Anduril: Sword of King Elessar (Aragorn)
$289
In Stock!
This is an accurate reproduction of the sword that Aragorn/Elessar carried in Peter Jackson's The Lord of the Rings: Return of the King. The 420 stainless steel blade is flawless. The runes etched onto the blade are done tastefully and as faithful to Tolkien's descriptions as possible.
Strongblade Lore
(A Bit of History According to Strongblade)
Merceneries
History is full of mercenaries.

From the Spanish military genius El Cid to Owain Lawgoch, leader of the "Red hand" Free Company that fought against England in the Hundred Years War (which was actually 116 years long -- go figure), mercenaries have had a profound effect on the world.

Wars have been won by mercenaries, cities and kingdoms have fallen to them and kings have been made by them. The Vatican has employed the Swiss "Helvetian" mercenaries as guards for centuries. The German landsknechts were some of the most feared mercenaries in history. They were so skilled with their pikes, swords and arquebuses, that they were paid double the going rate for most mercenaries.

There have been skilled mercenaries from almost ever continent at one time or another in history, and though the ones who have fought in major battles get most of the press, it is the silent, wandering mercenaries that attract the attention of fiction writers. From the sell-sword Bronn, of George R. R. Martin's wonderful A Song of Ice and Fire series, to Kitiara Uth Matar, hired blade and sister to Raistlin and Caramon in the famous Dragonlance stories by Margaret Weiss and Tracey Hickman, mercenaries have always tugged at our imaginations and brought wicked smiles to our lips.


Inspired by Model SBA-DEATHBRINGER