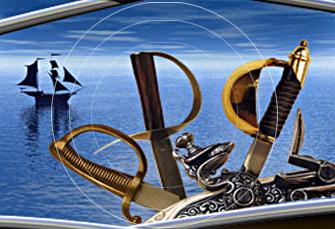 Pirate Swords
Just when pirates couldn't get any cooler, Johnny Depp goes and immortalizes Captain Jack Sparrow in Pirates of the Carribean. Sure, some of these aren't your typical pirate swords, but all fit the pirate mold quite well. Arrrr.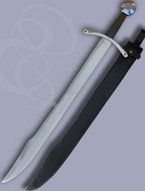 SBA-SWD-MED-FALCHION
Medieval European Falchion
$77
In Stock!
This falchion has a nice curve to it and is weighted similarly to the first falchions created. Sleek design and a distinct blade groove put this falchion in a class of its own.
Strongblade Lore
(A Bit of History According to Strongblade)
Cutlass was originally used by pirates and buccaneers(essentially another name for pirates). The word cutlass comes from a 17th-century English variation of coutelas, a 16th-century French word for a machete-like blade. The cutlass has a short curved blade and was historically favored by sailors because of its effectiveness as a fighting tool in close quarters. The short curved blade allowed for quick slashing movements useful in a melee style battle. Even today sailing vessels have limited space but even more so in the 16th century. Someone wielding a long bladed weapon would have been at a distinct disadvantage as compared to a much more maneuverable short blade.
Inspired by Model SBMU-PIRATECUTLASS