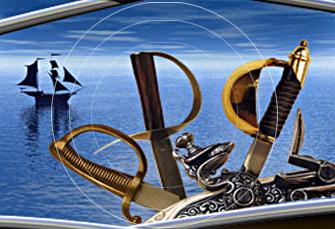 Pirate Swords
Just when pirates couldn't get any cooler, Johnny Depp goes and immortalizes Captain Jack Sparrow in Pirates of the Carribean. Sure, some of these aren't your typical pirate swords, but all fit the pirate mold quite well. Arrrr.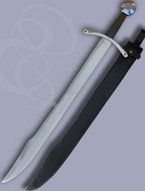 SBA-SWD-MED-FALCHION
Medieval European Falchion
$77
In Stock!
This falchion has a nice curve to it and is weighted similarly to the first falchions created. Sleek design and a distinct blade groove put this falchion in a class of its own.
Strongblade Lore
(A Bit of History According to Strongblade)
Made to simulate the ease of a sword with the damage of a battle axe, the Falchion was introduced sometime in the 11th century in Europe. Variations abound, their use carried on for centuries more, demonstrating their versatility, distinct appearance, and ability to deliver crushing blows. Father to the Persian and modern scimitar as well as the saber seen on battlefields abroad, Falchions have long blades with a straight back on one side of the blade and a longer curved style on the other side, putting additional weight towards the tip and the curve to increase striking force. The curved side was primarily used for striking while the back edge of the blade can be used to deliver blunt blows.
Inspired by Model SBA-SWD-MED-FALCHION