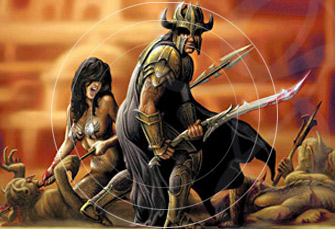 Fantasy Swords
Face it, we've all got about as much reality as we can handle these days. Escape to a land where good guys win, love is steamy and you never have to mow the lawn.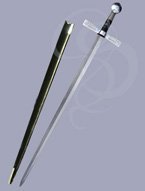 SBA-GOTHDREAM
Goth Dream Arming Sword with scabbard
$80
In Stock!
The GothDream has a historic base but with a bit of a fantasy flare, Based on the arming sword or war spike design, it long, light and very well balanced. The hilt is distinctive yet comfortable to wield.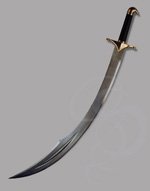 SBC-FIREDANCERSCIMITAR
The Firedancer - Fully balanced, hand-forged, tempered scimitar
$184
In Stock!
This is a perfectly balanced, perfectly tempered, hand-forged scimitar. It was created in the world-famous Hanwei forge with temper, balance and craftsmanship as the highest priorities.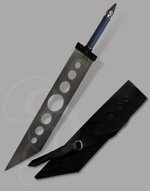 SBA-BUSTER-MAELSTROM
High-Carbon Steel Buster Sword With Sheath and Shoulder Strap
$209
Out of Stock
This is a limited edition Buster sword, made from the finest High Carbon steel. This is not a toy. It is for real, not sharpened, but otherwise a very real, very strong, very heavy, very nice.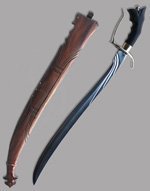 SBCB-AETHERNIS
Aethernis Premium Swept-bladed Sword with Carved Wooden Sheath
$283
Out of Stock
The Aethernis is a high-carbon, fully-tempered, sharpened, and battle-ready reproduction of Filipino style, pre-conquest weapons. The curves of the blade scream of elvish grace, with sweeping flourishes arching along the forte of the blade.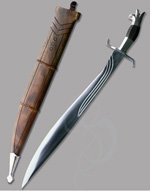 SBCB-LAEONIS
Laeonis - Premium Broad-bladed Short Sword with Carved Wooden Sheath
$283
Out of Stock
Fully tempered, battle-ready and razor sharp. Both the blade and grip of the Laeonis have a forward tilt to them that gives maximum leverage when cutting. The blade itself is wide, but still light and comfortable to hold.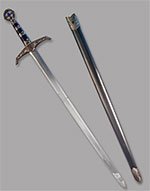 SBCM-LOCKSLEY
Blade Robin Locksley - Stainess Steel Sword of Robin Hood with Ornamented Hilt
$85
Out of Stock
A dedication to Robin Hood(Robin of Robin of Locksley). A slim light stainless steel blade with a beautifully ornate hilt. The original Elegant Weapon for a More Civilized Age."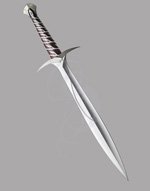 SBU-LOTR-STING-HOBBIT
Official LOTR Hobbit (Lord of the Rings) Sword - Sting
$178
Out of Stock
The Officially licensed Lord of the Rings Hobbit Sting. The blade of Bilbo Baggins. 22 1/4" overall. 15 3/8" AUS-6 stainless blade. Solid metal guard and pommel. Wooden wall display plaque with wood grain finish and silk screen graphic.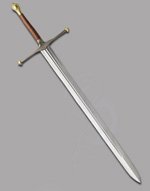 SBV-ICE-II
Ice, Sword of Eddard Stark
$315
Out of Stock
This is a licensed replica of ICE from the HBO series Game of Thrones. ICE is huge measuring almost 58 inches in length. This adult collectible is officially licensed and includes a display plaque and a certificate of authenticity.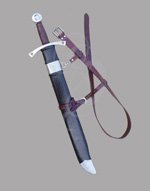 SBVA-NORWICH-FALCHION
Norwich Falchion
$180
Out of Stock
The Falchion is the perfect for any Gitan or other warrior cast in the Saladin mold. Made of high quality steel sharpened to a razor's edge. It includes a beautiful leather wrapped wooden scabbard with carrying strap.
Strongblade Lore
(A Bit of History According to Strongblade)
The famous sword Sting was given to Frodo by his uncle, Bilbo Baggins (he also gave Frodo the devastatingly potent Ring of Power and some Mithral mail. Mention that to your uncle next time you're trying to wheedle some cash out of him). Sting was, of course, a magical weapon. It was forged by elves in the hidden City of Gondolin during the First Age. Little is known of it's history until it was found by Gandalf and Bilbo in a troll treasure hoard in Eriador. Like most Gondolin-forged weapons, the blade glows blue when orcs are near.

Sting was found with two swords, Glamdring and Orcrist both very powerful weapons from the First Age, and both also forged in Gondolin. Bilbo took the unnamed Sting for himself, and Gandalf took Glamdring. Later, after a tussle with some spiders that were about the size of the ones I routinely saw in my old house, Bilbo named the sword Sting.

When Bilbo's days of adventuring started to draw to a close, he gave the sword to Frodo, who famously used it throughout his own adventures.


Inspired by Model SBU-LOTR-STING-HOBBIT