Gaelic Swords
The Scots, Irish and Celts were always bristling with swords. Whether it was the devastating two-handed claymore of the Scots, the massiv Irish two-handers, or the stylish celtic arming blades they were always prepared for a scrap. Here's a sampling of their swords.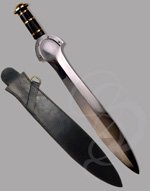 SBA-CELTICSHORTSWORD
High Carbon Steel Celtic Sword with Sheath
$77
In Stock!
This Celtic shortsword has a polished steel semicircle guard is which is accented with brass rivets and fits snugly over the flared forte of the sword's blade. The blade is forged from our rugged high-carbon steel and is oak-leaf shaped.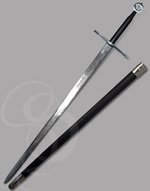 SBA-IRISHTWOHANDER
Caladbolg, Irish Two Hander - Lightning Sword of Fergus
$116
In Stock!
At a towering 52 inches long, the Irish Two-hander can both intimidate and impress friends and enemies. Its most notable feature (other than its size) is the polished-steel Celtic ring pommel at the base of the grip.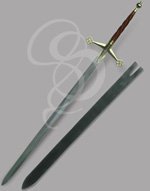 SBA-TWISTEDCLAYMORE
Claidheamh Mor: Twisted Hilt Claymore
$132
In Stock!
At an impressive 58 inches, This claymore features a massive redwood twisted hilt that truly is beautiful to look at. The brass hardware of the pommel and cross sets off the redwood perfectly. The 42 inch carbon steel blade is polished to a mirror finish.
Strongblade Lore
(A Bit of History According to Strongblade)
Although the legendary Scottish commander portrayed by Mel Gibson in the 1995 movie, Braveheart is often described as using a Claymore, his sword was quite different from what we generally call a Claymore today. The claymore, especially this more advanced twisted-hilt claymore, was a very common weapon for Scottish warriors to wield, though, so there is very little doubt that Wallace at one time or another would have a claymore (although he would most certainly have used the early claymore, not the twisted hilt variety.

Despite this, the claymore was an awesome weapon on the battlefield. The amazing reach (as much as 60 inches of overall length for standard claymores)made it extremely difficult for opponents to close with the wielder. The long ricasso allowed the bearer to switch to a more close-quarters style of combat if an opponent made it inside his distance.

The claymore (or more accurately, "Claidheamh-mor" in Gaelic) was first reportedly used in the 13th century, and was used as recently as the 18th century. The twisted hilt claymore was the most recent of the claymores (c. 1500) and features the downward-angled crosses that end in small honeycomb patterns. The twisted wooden hilt was a better way to grip the sword (and the fact that it looks so damn cool probably had something to do with its broad acceptance among highlanders). Legend has it that a claymore was hurled into the field of battle, toward an opposing army before combat, to signify that the Scottish troops were ready to fight. No real evidence of this, but its cool and fits the highlander idiom, so we thought we had pass it along.


Inspired by Model SBA-TWISTEDCLAYMORE