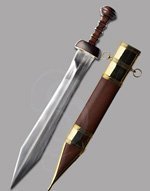 SBA-GLADIUS-VESPARUM
Roman Gladius Vesparum: Wasp-waisted Roman Gladius
$89
In Stock!
This magnificent gladius features a wasp style blade and a beautifully carved wooden grip. Each segment of the grip is carved deep for a secure hold, and separated with polished brass spacers.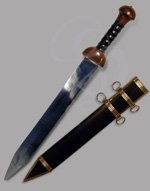 SBA-GLADIUSLEGIONNAIRE
The Legionnaire: Rugged, Crowned Roman Gladius with Leather Grip
$77
In Stock!
This gladius is a gorgeous version of the sword that conquered 75 percent of the known world. It's a replica of a standard "Pompeii" style gladius, with a few important modifications. The greatest is the "Crowned" pommel which provides extra grip area.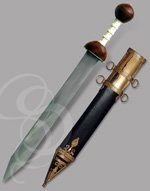 SBA-GLADIUSPRAETORIAN
Roman Gladius: Praetorian Guard
$88
In Stock!
The Praetorian is one of our highest end Roman Gladius. With a beautiful high-carbon steel blade, signature V-tip design, stunning polished-hardwood hilt and a blow-your-socks-off gilded sheath, it doesn't get much better.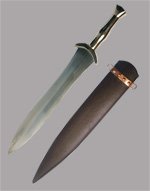 SBA-LAKONIA
Spartan Lakonia 20-inch Short Sword with Bronze Grip and Guard
$85
In Stock!
Based on the traditional Spartan design, this Lakonia features a high carbon blade oak leaf shape blade and a solid brass hilt. It is solid yet well balanced We offer it with both tempered and non-tempered blades.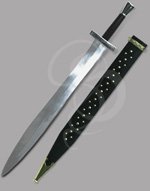 SBA-PHALANX-BLADE
Ancient Greek Hoplite's Phalanx Blade
$68
In Stock!
The Hoplite's blade has an oak-leaf shape, slightly wider toward the point than at the base of the blade. The tho silvered guard is simple and efficient. The pommel is also silvered to a mirror finish.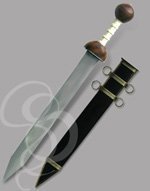 SBA-ROMANGLADIUSIII
Roman Gladius Type III with Double Loop Scabbard
$80
In Stock!
This gladius is an exceptional piece. The carved bone grip and polished wood guard and pommel are unique features. It is light and accurate with the classic V-tip that is deal for thrusting. A sturdy rhomboid cross section gives this blade outstanding strength.
Strongblade Lore
(A Bit of History According to Strongblade)
The world may never know a military man like Julius Caesar again; Brilliant, confident, charismatic and seemingly invincible in the field of battle. Caesar forever changed the Roman Empire in his short four-year stint as "Dictator for Life," and after his death was raised to divinity by the Roman Senate that had murdered him. Ironic, for more reasons than the obvious. Especially since Caesar claimed that he came from divinity, citing the Goddess Venus and the greek war hero Aeneas as his ancestors.

As a young military officer, Caesar showed great promise. He rose quickly through the ranks, and would have risen even more quickly if not for an unfortunate kidnapping by pirates. Even after being kidnapped and taken on board the pirate ship, Caesar kept his head and his confidence. When he overheard one of the pirate officers say that they could get 20 Gold pieces as ransom, Caesar allegedly laughed and said the he was worth at least 50.

After serving as Governor in Spain for a few years, Caesar's reputation was truly made in Gaul, where he spent many years battling the German "Barbarians" and expanding Rome's territory into what is now France and Belgium. With his victories in the Gallic Wars, Caesar gained an enormous amount of support from the common people (plebes) or Rome, and rode this swell of admiration by chasing away his rival (and friend) Pompey from the city, crushing Pompey's army in a civil war, and dissolving the Roman Republic. Despite this many of the people still loved him and his death at the hand's of the Roman senate four years later was cause for great mourning.

One of Caesar's most longstanding quotes came from a short battle he had with Pharnaces, a troublesome former ally of Rome. Pharnaces defeated a Roman force and began a land grab in Greece, Caesar decided to take care of the problem himself. He rushed to meet Pharnaces with amazing speed, not giving the leader time to fully prepare his forces. Caesar made quick work of Pharnaces then sent back a letter to Rome syaing simply "Veni, Vidi, Vinci"; I came. I saw. I Conquered.
Inspired by Model SBC-CAESARSWORD