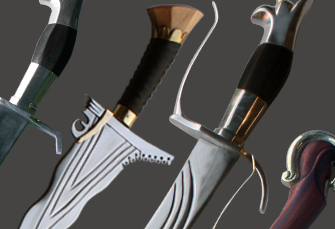 Esterlina Premium Battle Ready Fully Functional Swords
The Esterlina line swords are extremely high quality and battle ready. These swords are both beautiful and fully functional. Many of the designs are of Filipino origin but they also bear are resemblance to swords of the fantasy genre. Every part of these swords from the beautifully forged blades to the guard, grip and pommel construction scream of meticulous craftsmanship. Even the carved polished wooden scabbards are a work of art. With razor sharp blades and exceptional balance, these swords are great for use in cutting competitions. Of course they are also a great choice for those who just love and appreciate great looking high quality sword.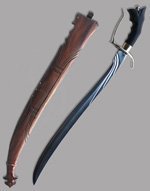 SBCB-AETHERNIS
Aethernis Premium Swept-bladed Sword with Carved Wooden Sheath
$283
Out of Stock
The Aethernis is a high-carbon, fully-tempered, sharpened, and battle-ready reproduction of Filipino style, pre-conquest weapons. The curves of the blade scream of elvish grace, with sweeping flourishes arching along the forte of the blade.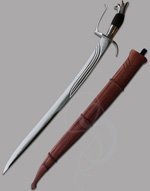 SBCB-DUNDAREI
Dundarei- Premium Swept Blade Saber with Carved Wooden Sheath
$283
Out of Stock
The Dundarei saber is a fully-tempered and battle read.he swept forward blade allows for powerful strokes. And the graceful fullers carved on the forte of the blade makes you look good while making those strokes.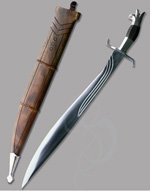 SBCB-LAEONIS
Laeonis - Premium Broad-bladed Short Sword with Carved Wooden Sheath
$283
Out of Stock
Fully tempered, battle-ready and razor sharp. Both the blade and grip of the Laeonis have a forward tilt to them that gives maximum leverage when cutting. The blade itself is wide, but still light and comfortable to hold.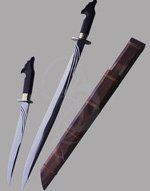 SBCB-MORDES
Mordes Dyadian Premium Sword and Dagger Matched Pair with Carved Wooden Sheath
$360
Out of Stock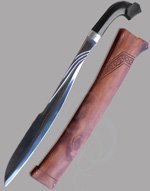 SBCB-MOULNER
Moulner Falcatus Premium Double Curved Short Sword with Carved Wooden Sheath
$283
Out of Stock