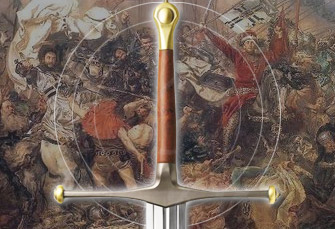 Longswords and Two Handed War Swords
These are some of our largest swords. If you are a big warrior that likes a big two handed war sword, this it the place to be. If your not so big check out the LARP Longswords, they are still pretty cool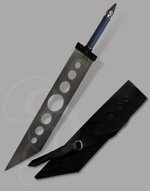 SBA-BUSTER-MAELSTROM
High-Carbon Steel Buster Sword With Sheath and Shoulder Strap
$209
In Stock!
This is a limited edition Buster sword, made from the finest High Carbon steel. This is not a toy. It is for real, not sharpened, but otherwise a very real, very strong, very heavy, very nice.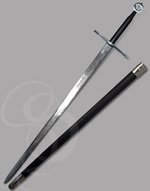 SBA-IRISHTWOHANDER
Caladbolg, Irish Two Hander - Lightning Sword of Fergus
$116
In Stock!
At a towering 52 inches long, the Irish Two-hander can both intimidate and impress friends and enemies. Its most notable feature (other than its size) is the polished-steel Celtic ring pommel at the base of the grip.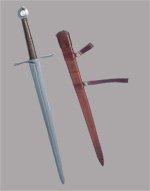 SBA-NORMAN-TWOHAND
Norman Sword with Molded Leather Scabbard with Belt Hangers
$140
In Stock!
The Norman two-handed sword is one of our most beautiful pieces. Boasting an impressive overall size of 45 inches with a blade length of 35 inches it still a comfortable weight and very well balanced.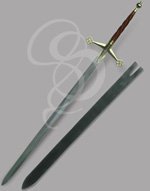 SBA-TWISTEDCLAYMORE
Claidheamh Mor: Twisted Hilt Claymore
$132
In Stock!
At an impressive 58 inches, This claymore features a massive redwood twisted hilt that truly is beautiful to look at. The brass hardware of the pommel and cross sets off the redwood perfectly. The 42 inch carbon steel blade is polished to a mirror finish.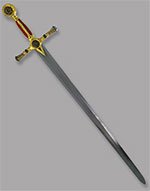 SBCM-MAS-RED
Masonic Greatsword - Stainless-Greatsword with Red Velvet Grip
$79
In Stock!
A red velvet grip with golden accent, a decorative guard and pommel with Masonic symbols plus an impressive 45 overall length with a 37 inch polished stainless steel blade make this a sword fit for royalty.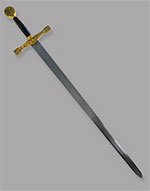 SBCM-PENDRAGON
King Arthur's Sword, Excalibur - Arthur Pendragon
$74
In Stock!
The Pendragon captures the power, nobility and mystery of legendary King Arthur and his mystical sword, Excalibur. This version of Excalibur is long--nearly four foot in overall length, with a wide stainless steel blade that's absolutely perfect for engraving.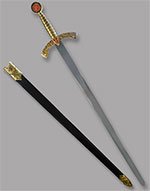 SBCM-TEMPLAR-GOLD
Gilded Templar Sword with Knight's Templar Sigil and Scabbard
$76
In Stock!
This is a beautiful piece of historically based artwork. It bears a 32.5-inch stainless-steel blade that is smooth and perfect for engraving. The black leather scabbard bears ornately carved and gilded collar and tip.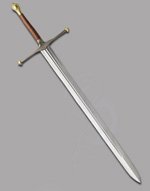 SBV-ICE-II
Ice, Sword of Eddard Stark
$315
In Stock!
This is a licensed replica of ICE from the HBO series Game of Thrones. ICE is huge measuring almost 58 inches in length. This adult collectible is officially licensed and includes a display plaque and a certificate of authenticity.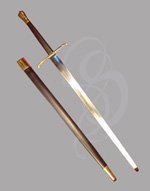 SBA-GREATSWORD
The Great War Two Handed Longsword
$85
Out of Stock
This is a magnificent piece of steel. Long and beautiful, with a 32 Inch blade and a massive 8 inch grip. Oh, and did we mention that it's under 3 pounds?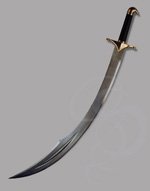 SBC-FIREDANCERSCIMITAR
The Firedancer - Fully balanced, hand-forged, tempered scimitar
$184
Out of Stock
This is a perfectly balanced, perfectly tempered, hand-forged scimitar. It was created in the world-famous Hanwei forge with temper, balance and craftsmanship as the highest priorities.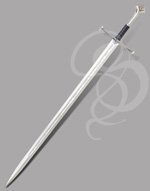 SBU-ANDURIL
Anduril: Sword of King Elessar (Aragorn)
$289
Out of Stock
This is an accurate reproduction of the sword that Aragorn/Elessar carried in Peter Jackson's The Lord of the Rings: Return of the King. The 420 stainless steel blade is flawless. The runes etched onto the blade are done tastefully and as faithful to Tolkien's descriptions as possible.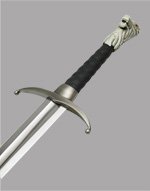 SBV-LONGCLAW
Officially Licensed Sword of Jon Snow from HBO® 's Game of Thrones
$255
Out of Stock
This is an officially licensed replica of Longclaw, from the HBO series Game of Thrones. It features a 35 inch polished stainless steel blade and a wolf head shaped pommel. It includes a wooden wall mount plaque with the oath of the night Watch silk screened on it.
Strongblade Lore
(A Bit of History According to Strongblade)
Andúril, the sword that was forged from the shards of Narsil, was the symbol of hope to the inhabitants of Middle Earth during the War of the Ring. Forged in 3018, the sword was living testiment to the fact that the Dark Lord Sauron, lieutenant of Morgoth and ravager of the east, could be defeated.

You'll recall from your history texts that Narsil was the blade carried by King Elendil, the First High King of the exiled Numenoreans. Narsil was forged by Telchar, the greatest dwarven smith that ever lived in Middle Earth (some of you may recall that Telchar also forged Angchrist, the knife used by Beren to pry a silmaril from the crown of Morgoth. That was back in the day of course, when Sauron was but a lieutenant and got his butt kicked by a wolf). Elendil carried Narsil against Sauron in the War of the Last Alliance. In the final battle of that War, Elendil was slain by Sauron, but his son, Isildur, picked up the sword and confronted the Dark Lord. Sauron, shattered the blade and as he reached toward Isildur to finish him, Isildur famously swung the broken hilt-shard and hacked the One Ring (and a stray finger) from Sauron's hand, thus snatching victory from defeat and destroying The Dark Lord Sauron (for a while, anyway. Dark Lords have a way of always popping up again, much like In-laws and indigestion).

But Enough about Narsil. This is the story of Anduril, which was reforged by elves from the shards of that other sword (we won't ention its name again lest the Sword Union (local 404) complain that Narsil upstaged Anduril in Anduril's own history page). The elves took great care in reforging narsil and etched runes and symbols on its blade, as Tolkien writes:

The sword of Elendil was forged anew by Elvish smiths, and on its blade was traced a device of seven stars set between the crescent Moon and the rayed Sun, and about them was written many runes...

These runes are painstakingly recreated in this reproduction of Andril. If you want to know what it means, the good folks at www.elvish.org translated the runes from Tolkien's Elvish description (Quenya Elvish to be precise) to read as follows:

I am Anduril who once was Narsil, sword of Elendil.
The slaves of Mordor shall flee from me.

And the last bit of poetry that we'd like to share with you is perhaps the most often quoted (and misquoted) line from The Lord of the Rings, which loosely pertains to Anduril and narsil:

All that is gold does not glitter, not all those who wander are lost;
The old that is strong does not wither, deep roots are not reached by the frost.
From the ashes a fire shall be woken, a light from the shadows shall spring;
renenwed shall be blade that was broken, the crownless again shall be king.
Inspired by Model SBU-ANDURIL