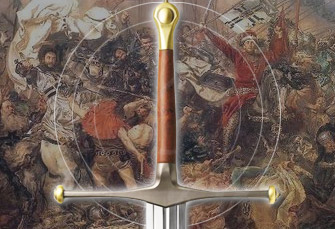 Longswords and Two Handed War Swords
These are some of our largest swords. If you are a big warrior that likes a big two handed war sword, this it the place to be. If your not so big check out the LARP Longswords, they are still pretty cool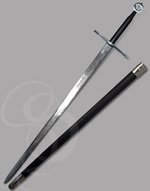 SBA-IRISHTWOHANDER
Caladbolg, Irish Two Hander - Lightning Sword of Fergus
$116
In Stock!
At a towering 52 inches long, the Irish Two-hander can both intimidate and impress friends and enemies. Its most notable feature (other than its size) is the polished-steel Celtic ring pommel at the base of the grip.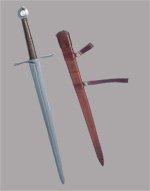 SBA-NORMAN-TWOHAND
Norman Sword with Molded Leather Scabbard with Belt Hangers
$140
In Stock!
The Norman two-handed sword is one of our most beautiful pieces. Boasting an impressive overall size of 45 inches with a blade length of 35 inches it still a comfortable weight and very well balanced.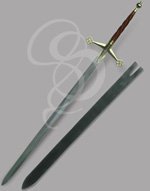 SBA-TWISTEDCLAYMORE
Claidheamh Mor: Twisted Hilt Claymore
$132
In Stock!
At an impressive 58 inches, This claymore features a massive redwood twisted hilt that truly is beautiful to look at. The brass hardware of the pommel and cross sets off the redwood perfectly. The 42 inch carbon steel blade is polished to a mirror finish.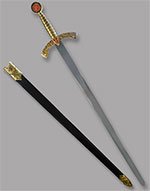 SBCM-TEMPLAR-GOLD
Gilded Templar Sword with Knight's Templar Sigil and Scabbard
$95
In Stock!
This is a beautiful piece of historically based artwork. It bears a 32.5-inch stainless-steel blade that is smooth and perfect for engraving. The black leather scabbard bears ornately carved and gilded collar and tip.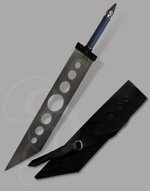 SBA-BUSTER-MAELSTROM
High-Carbon Steel Buster Sword With Sheath and Shoulder Strap
$209
Out of Stock
This is a limited edition Buster sword, made from the finest High Carbon steel. This is not a toy. It is for real, not sharpened, but otherwise a very real, very strong, very heavy, very nice.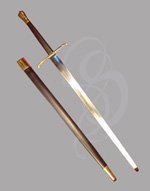 SBA-GREATSWORD
The Great War Two Handed Longsword
$85
Out of Stock
This is a magnificent piece of steel. Long and beautiful, with a 32 Inch blade and a massive 8 inch grip. Oh, and did we mention that it's under 3 pounds?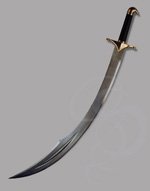 SBC-FIREDANCERSCIMITAR
The Firedancer - Fully balanced, hand-forged, tempered scimitar
$184
Out of Stock
This is a perfectly balanced, perfectly tempered, hand-forged scimitar. It was created in the world-famous Hanwei forge with temper, balance and craftsmanship as the highest priorities.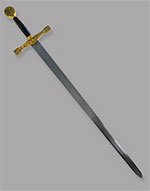 SBCM-PENDRAGON
King Arthur's Sword, Excalibur - Arthur Pendragon
$74
Out of Stock
The Pendragon captures the power, nobility and mystery of legendary King Arthur and his mystical sword, Excalibur. This version of Excalibur is long--nearly four foot in overall length, with a wide stainless steel blade that's absolutely perfect for engraving.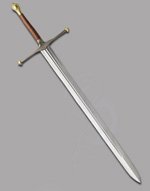 SBV-ICE-II
Ice, Sword of Eddard Stark
$315
Out of Stock
This is a licensed replica of ICE from the HBO series Game of Thrones. ICE is huge measuring almost 58 inches in length. This adult collectible is officially licensed and includes a display plaque and a certificate of authenticity.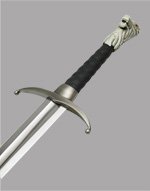 SBV-LONGCLAW
Officially Licensed Sword of Jon Snow from HBO® 's Game of Thrones
$255
Out of Stock
This is an officially licensed replica of Longclaw, from the HBO series Game of Thrones. It features a 35 inch polished stainless steel blade and a wolf head shaped pommel. It includes a wooden wall mount plaque with the oath of the night Watch silk screened on it.
Strongblade Lore
(A Bit of History According to Strongblade)
Although the legendary Scottish commander portrayed by Mel Gibson in the 1995 movie, Braveheart is often described as using a Claymore, his sword was quite different from what we generally call a Claymore today. The claymore, especially this more advanced twisted-hilt claymore, was a very common weapon for Scottish warriors to wield, though, so there is very little doubt that Wallace at one time or another would have a claymore (although he would most certainly have used the early claymore, not the twisted hilt variety.

Despite this, the claymore was an awesome weapon on the battlefield. The amazing reach (as much as 60 inches of overall length for standard claymores)made it extremely difficult for opponents to close with the wielder. The long ricasso allowed the bearer to switch to a more close-quarters style of combat if an opponent made it inside his distance.

The claymore (or more accurately, "Claidheamh-mor" in Gaelic) was first reportedly used in the 13th century, and was used as recently as the 18th century. The twisted hilt claymore was the most recent of the claymores (c. 1500) and features the downward-angled crosses that end in small honeycomb patterns. The twisted wooden hilt was a better way to grip the sword (and the fact that it looks so damn cool probably had something to do with its broad acceptance among highlanders). Legend has it that a claymore was hurled into the field of battle, toward an opposing army before combat, to signify that the Scottish troops were ready to fight. No real evidence of this, but its cool and fits the highlander idiom, so we thought we had pass it along.


Inspired by Model SBA-TWISTEDCLAYMORE