Engraving Sleeves
Decorative Engraving Designs For Sword Blades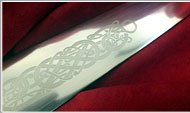 Sound the trumpets! Ring the church bells! Release the doves! Decorative sleeves for Sword blades have arrived at Strongblade! That's right, now you can add a cool, engraved design to your sword. Pair that design to some custom text engraving and you've got a whole new level of blade customization!
We've started with just a few designs on a few swords, but we'll be adding the optional designs to most of our swords, and lots more sleeves will be arriving in the coming months.
We're also doing more custom work than ever. If you have a special graphic you'd like on your sword, then contact us at Service@strongblade.com. Alternately, you can mention that you'd like a custom graphic when you place your order (just leave a comment in the engraving comments section) and we'll contact you.
But back to the sleeves! Here are the choices we have so far. (These images have been digitally modelled onto our Warspike Bastard Sword - the graphics won't actually be black.)
Below are the swords for which we currently offer engraving sleeves. The list is growing daily but if you would like a sleeve on a sword not shown please contact us by sending an email to service@strongblade.com or calling (866)779-6737.