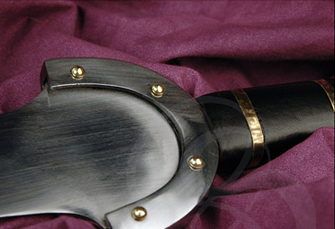 Short Swords
What they lack in reach, they make up in style. Short swords are convenient, fast and stylish. It's the perfect way to say "Back off, punk" in a classy, understated way.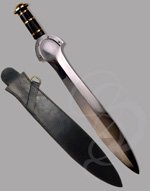 SBA-CELTICSHORTSWORD
High Carbon Steel Celtic Sword with Sheath
$77
In Stock!
This Celtic shortsword has a polished steel semicircle guard is which is accented with brass rivets and fits snugly over the flared forte of the sword's blade. The blade is forged from our rugged high-carbon steel and is oak-leaf shaped.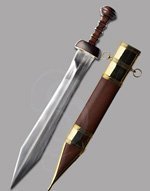 SBA-GLADIUS-VESPARUM
Roman Gladius Vesparum: Wasp-waisted Roman Gladius
$89
In Stock!
This magnificent gladius features a wasp style blade and a beautifully carved wooden grip. Each segment of the grip is carved deep for a secure hold, and separated with polished brass spacers.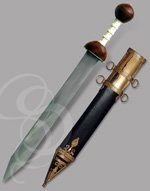 SBA-GLADIUSPRAETORIAN
Roman Gladius: Praetorian Guard
$88
In Stock!
The Praetorian is one of our highest end Roman Gladius. With a beautiful high-carbon steel blade, signature V-tip design, stunning polished-hardwood hilt and a blow-your-socks-off gilded sheath, it doesn't get much better.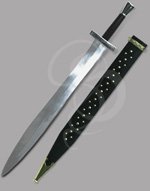 SBA-PHALANX-BLADE
Ancient Greek Hoplite's Phalanx Blade
$68
In Stock!
The Hoplite's blade has an oak-leaf shape, slightly wider toward the point than at the base of the blade. The tho silvered guard is simple and efficient. The pommel is also silvered to a mirror finish.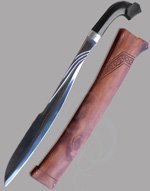 SBCB-MOULNER
Moulner Falcatus Premium Double Curved Short Sword with Carved Wooden Sheath
$283
In Stock!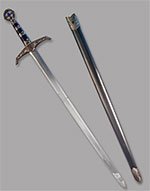 SBCM-LOCKSLEY
Blade Robin Locksley - Stainess Steel Sword of Robin Hood with Ornamented Hilt
$71
In Stock!
A dedication to Robin Hood(Robin of Robin of Locksley). A slim light stainless steel blade with a beautifully ornate hilt. The original Elegant Weapon for a More Civilized Age."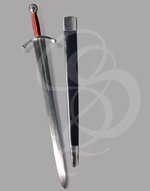 SBA-ARCHERSWORD
European Archer's Short Sword
$77
Out of Stock
This European short sword is a beautifully weighted with nickel-chromed hilt, pommel and scabbard accents. The grip is tightly wrapped with a rich red copper wiring and the blade is rugged high-carbon steel.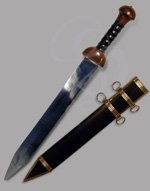 SBA-GLADIUSLEGIONNAIRE
The Legionnaire: Rugged, Crowned Roman Gladius with Leather Grip
$77
Out of Stock
This gladius is a gorgeous version of the sword that conquered 75 percent of the known world. It's a replica of a standard "Pompeii" style gladius, with a few important modifications. The greatest is the "Crowned" pommel which provides extra grip area.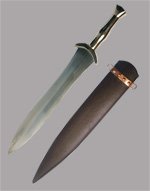 SBA-LAKONIA
Spartan Lakonia 20-inch Short Sword with Bronze Grip and Guard
$85
Out of Stock
Based on the traditional Spartan design, this Lakonia features a high carbon blade oak leaf shape blade and a solid brass hilt. It is solid yet well balanced We offer it with both tempered and non-tempered blades.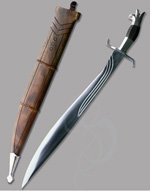 SBCB-LAEONIS
Laeonis - Premium Broad-bladed Short Sword with Carved Wooden Sheath
$283
Out of Stock
Fully tempered, battle-ready and razor sharp. Both the blade and grip of the Laeonis have a forward tilt to them that gives maximum leverage when cutting. The blade itself is wide, but still light and comfortable to hold.
Strongblade Lore
(A Bit of History According to Strongblade)
Short Sword

The short sword was the utilitarian sword of history. Longer and sturdier than a knife, but much easier to weild than a broadsword or battle sword. It is difficult to determine when the short sword made the transition from knife to sword, but the most well known ancient short sword is the Spanish gladius, which was used by roman legionnaires and gladiators alike. In fact, the term gladiator actually comes from gladius.

Early short swords were often carried by spearmen in armies. These warriors would use their spears to keep their enemies at bay, but when the enemy closed to melee range, the spearmen/archers would drop their primary weapon and switch to the short sword, which was surprisingly effective in close combat.

Short swords evolved in europe into smaller versions of arming and battle swords. Longbowmen carried them as their primary melee choice, although if the archers were involved in hand-to-hand fighting, it was usually a sign that your army was in trouble.

Short swords were often elegant and compact enough to be worn by nobles and warriors alike, even outside of combat.


Inspired by Model SBA-ARCHERSWORD